My wife gave me the idea for this post.
7.30am (no 10am starts for me with two small kids who wake at 6am!) in the kitchen. I'm still half asleep and can only focus with one eye but it's enough to get me to the coffee maker.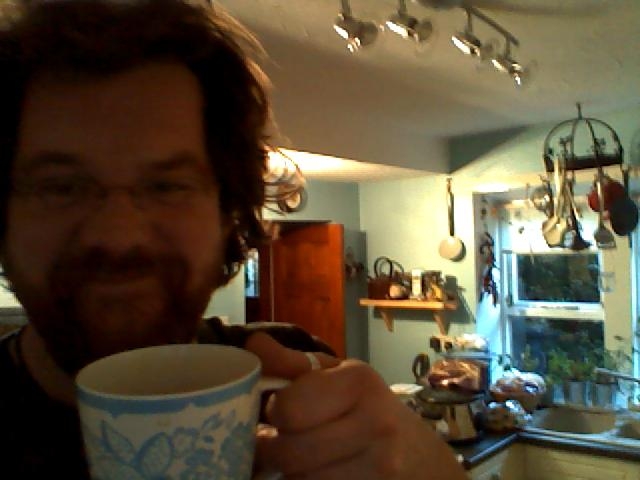 Then my wife took this, and suggested (laughing) I should 'stick in on my blog' and show my subcribers the ugly truth of what internet marketing from home is really about!
Actually I thought it was a great idea – so I went upstairs to take a pic of my workspace.
I resisted the idea to tidy up my desk. After all I wanted to show you what my desk looks like most of the time and not just when it's posing for photos so here it is – this is where I work most of the time.
My office is also the guest room and the room where I ocassionally sleep if I'm working very late or on an early morning call with someone from another time zone, so I don't disturb the family in the middle of the night.
You can see my desk lamp is still switched on – that's because in Yorkshire at this time of year it's pretty dark at half past seven in the morning.
It's quite a sparse set up, with a laptop and a netbook being the only computers I'm currently using. The silver laptop that's folded up and acting as a platform for my netbook in the picture is slowly packing up – the keys are sticking and I think it's time to get a new one.
The other reason it's such a laptop-based setup is that it's portable. The netbook, a notebook and my mobile broadband connection (iphone plus cable) can be grabbed and stuffed into a bag in under a minute and they provide me with a mobile office whenever I'm off on my travels. This will be coming with us when we go to the cottage on the coast in two weeks or so for an Autumn break.
So I've shown you mine – can I see yours now?
I'm inviting anyone and everyone who reads this to send in pictures and/or video, and a brief write-up of where they work.
You can be at any stage in your marketing career – working full time from home or just doing a few hours in the evenings to try to generate a little extra cash. Even if you've not made a penny yet, tell me about it.
I want to show other marketers out there that you don't need a huge, custom made office complex to be an internet marketer, and that the reality is, most of us get by with, or even enjoy working from a small corner at home.
I want to know how your marketing fits in with your lifestyle – adds to your lifestyle  – and in a way that real marketers work, not the usual laptop on the beach in a hammock (unless that IS your reality)
Anyway – ever tried typing in a hammock? – it's bloody hard let me tell you.
In return I'll publish your pics and/or video and writeup on my blog along with a link to your blog, site or whatever. Just send that in with your write up.
There are NO rules unless I make them up at a later date, so you can send in anything – there's no right or wrong way to do this, and you'll get your link seen by thousands of people.
Send your stuff – doesn't matter about format, we can sort that out – to tonyshepherddirect@googlemail.com
You can send links to your youtube vids, or web based pics or attach them and send them through. NO pre-existing promo vids or pics though – this is about your lifestyle and where you work NOT a blatent plug for your biz, and in return we'll put your blog or site link in with your write up. Just jot down whatever comes to mind.
If you've never published your picture (and it would be great if we had a pic of you as well as your workspace) or done a short video (no more than about 3 mins please) about your lifestyle and how it's been affected by internet marketing, then this is a great excuse to do it AND get seen my a LOT of people.
Get my blog posts delivered by Email