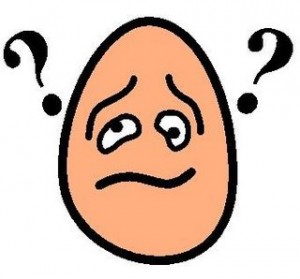 I've always been a strong believer that your mental attitude to your online business is more important than anything you actually do online.
Which is a great and noble thing to write on my blog.
I'm also a right lazy sod at times.
If it's a decision between writing a broadcast email and watching that bear on a trampoline video on Youtube that made wine come down my nose when I first watched it….well who's gonna win in the real world?
I try to stay away from my computer as much as possible when I'm not actually doing anything that isn't actual computer work. Checking emails and browsing forums is NOT work.
You want to scare yourself half to death? Try this:
Get a cheap $20 webcam and position it so it looks down on you and your desk.
Record yourself for a few days.
I'll bet you twenty quid that the main thing you see is your left arm on the desk, with your chin resting on your hand….
And your right hand ocassionally clicking a mouse button.
(Other way round if you're left-handed)
But that's not the scary thing.
The scary thing is the expression on your face. You'll be staring, open mouthed at your monitor screen, perhaps even drooling from time to time without noticing.
In England we call this 'The B&Q face'
'B&Q' is a home DIY store where you can buy everything you need to improve or make repairs to your home. Anything.
Unfortunately they seem to recruit staff by putting something shiny on the floor in front of the building and then throwing a net over anyone who stares at it for longer than 20 minutes.
(Can you tell I've had bad experiences in B&Q yet?)
So the 'B&Q face' is the expression you'll see when you go up to one of their staff and ask 'do you sell wood'?
If you work there I apologise unreservedly (even though you'll have to look up that last word)
So I did the webcam thing and found myself wasting TONS of time fannying about doing absolutely NOTHING except browse, check emails, and other highly un-productive stuff.
Not a single productive thing emerged. Nada.
But it was the look on my own face that really freaked me out. It's probably the same when I'm watching TV or cutting my toenails.
It's the look of WASTED TIME, which in our line of work means of course, wasted money.
So I fell back on a technique I read about somewhere. I wish I could remember where because I'd give them full credit because it's been working like CRAZY for me this past week.
Let me give you an example.
I had promised to put together some new graphics for two minisites owned by me and my partner in our plugin business.
I reckoned there was about an hour's work to do.
So I found myself sitting at my computer the other night, knowing that my wife was going to be calling me for dinner in about half an hour.
Now normally I'd put off the website design I needed to do until later or the following day.
But armed with my new technique, which is simply this:
START IT RIGHT NOW!
I got stuck into the site.
Bugger me but I pressed the 'save' button at the exact same time my lovely wife asked me to open some wine because the food was ready.
I did the job in 30 minutes of time I would otherwise have just wasted with aimless browsing or endless email checking!
It was half an hour of pure unadulterated productivity!
A fluke I thought….
So the next day I found myself putting off researching a new project idea because I thought it would take me more than the 15 minutes I had before I was due to go out.
The same happened. I got stuck in rather than putting it off until later, and lo and behold….I finished it in one go.
And the SAME happened AGAIN this morning with a job I've been putting off for WEEKS.
This blog has been hosted for a while on what used to be a decent hosting company. A shared host I agree, and one I've been using for a lot of years but until recently it was always reliable.
Not so lately.
The load times for my blog have gotten STUPIDLY slow, and I think the support team who answer my tickets asking why this is used to work for the Clintons because they just deny everything.
'Nope, not our fault'
'Everything seems OK from our end'
Prunes. The lot of them.
Anyhow this morning I was on a Skype call with a business partner and I mentioned my blog, and knowing that he's also great with techy stuff as well as a businessman, I sort of cajoled him into transferring the whole thing over to our dedicated server.
The whole thing was done in – dunno – 45 minutes tops.
So I'm a convert to 'START IT RIGHT NOW' which is why I'm preaching to you. Don't put stuff off, do it RIGHT NOW. Even if you don't finish it (but a lot of the time you will) at least you'll have made inroads into the task.
As internet marketers, we are MASTERS of procrastination. If we put as much effort into our IM as we do putting OFF doing stuff we'd be a Hell of a lot richer.
I know it's nothing new – it's nothing new for me – but I've sort of let it slide a bit and now I'm starting to remember how effective this used to be for me.
Give it a go and see what you think. See if you get the same results. Whatever you've been putting off, make a start on it right NOW.
I'll leave you with a supposedly true extract from an application form from a real B&Q employee:
He was asked to explain his criminal record and wrote: 'We stole a pig, but it was a really small pig.'
And then he was asked to sum up his attitude to work, he wrote (my favourite):
'I am a wedge with a sponge taped to it. My purpose is to wedge myself into someone's door to absorb as much as possible.
I hope he got the job.
Comments welcome as always.
Get my blog posts delivered by Email