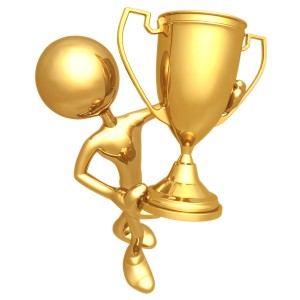 I don't like the term 'winner' when it relates to success.
It suggests there's a race and that for someone to win someone else necessarily must lose…
…and I don't think that's true.
Many people don't even start the race and that's cool – it's up to them.
Even at school I wasn't competitive.
I played in the football and cricket teams and was the high-jump champion one year (it helped being six feet tall at 12 years old!)…
…but I was never really competitive.
If I came first in something that was great.
If I came last it didn't matter too much though.
I see mates I went to school with and some are madly competitive STILL – their kids HAVE to be the ones that come first in party games, or if there's a dad's competition it turns into an olympic sport with some blokes needing to win.
It's all done with a lot of laughter but you can see there's a real edge there with some people, again which is fine
I learned very early on that I was at my happiest doing things at my own pace and with my own goals in mind.
This doesn't mean I'm not driven or motivated – I am – and if I find myself on a leaderboard for promoting an affiliate product then maybe that $1,000 for coming first isn't the only reason I want to come out on top…
…but the fact is I'm not really competitive, and guess what?
It's fine.
And like I said, business is good and I'm happier now than I've ever been in my life.
That makes me a winner I reckon 🙂
Get my blog posts delivered by Email