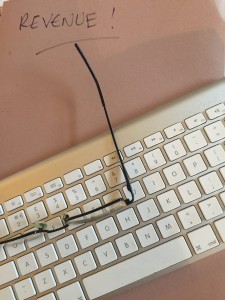 If you're a freelance writer and your work increases your client's revenue, you can justify putting your prices up. You should put your prices up because it's better for everyone involved.
When you bring value you're an asset.
If you're a copywriter and your work increases conversions on your client's sales page or ad AND you can do it consistently, ask for a small percentage point on sales next time. You may get it, you may not but you'll certainly have made your client aware that you know your own value.
If you're a business coach and you get results for your clients you should adjust your fees accordingly, and if you're an email marketer who can consistently drive traffic to affiliate offers or webpages you should either request an increase in commissions (I went from 50% to 80% last week because of the hops I was driving to an affiliate offer) or some other form of reward such as getting your ad placed inside a member's area or download page – the places where buyers are at their 'hottest'
In short, just because you're not a product owner or acting in the role of a product owner at a given time doesn't mean you don't have any leverage or platform to negotiate from.
In my early days online I wrote sales copy for some relatively big names in the internet marketing niche and my prices or incentives always increased (gently) when the same client wanted to hire me again.
If a client comes back and wants to hire you again, you know he's seen results from your previous work, whether that's as a writer, an affiliate, a designer, a coder or whatever.
So put your prices up.
Not in an aggressive way but in slow steady increments so you get used to your own 'new worth'
Focus on getting results for your client and you'll see increased revenue yourself regardless of what service or product you bring to the marketplace.
I know a freelancer who specialises in writing technical ebooks, blog posts and reports and has a talent for translating even the most frightening tech-speak into plain, understandable prose.
But her REAL talent is looking at the project and suggesting changes to her client from a writer's point of view that client would maybe miss, such as breaking down large blocks of text with visual aids and flowcharts, and putting a technical manual into a diary format so it became easier to follow.
She's never short of clients.
You can do this if you're an writer, affiliate, web designer, coder or whatever – in fact you SHOULD be doing it, because when you add value in whatever role you play, you'll never be out of work.
And when you become the client, you'll know exactly the sort of person to hire…
Get my blog posts delivered by Email