I'm currently on the stunningly gorgeous west coast of Scotland with my family, exploring by car and boat, and very nearly by seaplane, which would have been a first for me.
It's never great looking at someone else's holiday pics, let alone when the main feature is a big hairy bugger so I thought I'd try to sneak them in by letting you know how I'm running the business from Scotland.
Before we went I set up 'internet tethering' on my iphone, which has worked fairly well, even in some bloody remote spots, and means I can plug my iphone into my laptop to access the internet. The tethering facility costs £30 (about $50) a month on top of my iphone usual bill so it's a bit steep but it's been well worth it for me.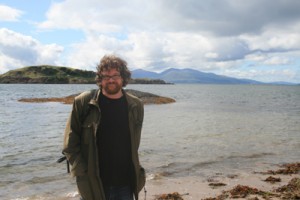 We're staying around Oban mostly, because it's a good place to get out on the water and to explore the islands around the west cost, and because it's one of the few Scottish names I can pronounce and spell.
We'd heard about a Seal colony on a tiny little outcrop of rock between the mainland and the island of Mull that we could sail very close to and not risk running aground, so we set off to find it a few days ago – here's what happened.
As we left Oban – maybe a half mile or so from the port, and still very close to the surrounding land – in fact there were people in canoes around (glad I wasn;t one of them as you're about to find out) my daughter said, with a very casual tone…
'Oh Daddy look, there's a big shark'
I smiled gently and started to explain that it's very rare to see sharks in this part of ……..
Then stopped dead as a bloody big shark swam past us, about 20 feet off the starboard side.
My missus – always the professional – grabbed
her camera and took this picture.
We thought that would be the last we saw of it, but it then went under the boat and came up very close on the other side.
I knew, and was also told that it was a Basking Shark and completely harmless.
But I've never been as close to one before and fifteen feet is quite long I reckon.
I know they're vegetarian but I personally KNOW a few vegetarians and let me tell you, when they're bugged about something the last thing they are is harmless!
If you've ever been whacked with a Peruvian lentil spoon you'll know exactly what I mean.
We continued on to the seal colony and it was well worth it – we managed to get up really close and they seemed very interested in us, although not frightened.
There were also a lot of sea birds on the same 'island', and while I'm not expert I now know the difference between a cormorant and a shag.
Ahem!
My internet tethering – would I recommend it? Well it  worked very well and the signal from some places was better than I got at home in Yorkshire when I tested it before we set off.
It did throw up some funny things though. For almost a whole week I couldn't access my Aweber account which meant that a promo I was going to do for another marketer didn't come off.
Apart from that everything works OK and I watch money come into the accounts and subscribers join the lists as I travel round the Highlands.
I'd recommend it if you're going to make your money back from using it – and probably as usual with the 'technology rip off' industry, if you wait for 12 months it won't be so expensive. Personally it does the trick for me.
I brought my laptop with me because my new SAMSUNG NC10 (name and shame) netbook decided to crash, and despite mucking about with it for almost a day before we came up here, couldn't get the damn thing to connect to any sort of internet connection, although I did manage to install the Windows XP System it came with.
Despite this I didn't trust it to work and so I left it at home. I'll have another go when I'm back in the real world.
The first thing I did when I got here was to find the nearest internet cafe (yes there's one everywhere these days) so if anything goes wrong I can still keep in touch. Although I only seem to log on now and again, usually in the evenings, and once the booze had been opened.
Speaking of such things…….
………I bought some 12 year old malt this afternoon so it's time to sample a wee dram, so I'm off to sample it.
Best wishes.
Get my blog posts delivered by Email