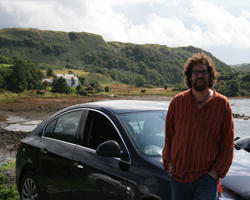 There's a moment that everyone who's successful online goes through.
It's a simple step – for some it comes in a blinding flash, for others a gradual realisation that happens over a period of days or weeks.
It's VITAL.
I believe you cannot become successful online without going through this step.
It's this:
You stop thinking of yourself as a customer and start thinking of yourself as a MARKETER.
Let me give you an example.
If you get 100 sales emails a day into your inbox and it annoys you, you're a customer.
A marketer either just unsubscribes or (the smarts ones) read the emails to see what it is about them that bugs him, or does a search and lines up all the emails from one particular marketer in a timeline and looks at the frequencey of the mailings, the titles, and examines how he runs his email campaigns.
In short – if you're a marketer you LEARN from the huge amount of emails flying round this business, and you understand that the person sending them is simply being a marketer themselves, no matter how well or poorly they're doing it.
On the other hand, the customer mentality gets mad and sends a snotty email out.
With my personal coaching and mentoring clients I'm priveledged to witness this transition from customer to pro marketer quite often.
And it's exhilarating to watch.
I call them my 'green tea moments' (hippy or what??)
Because after the call I usually have a cup of tea – or if it's evening a big glass of wine although that doesn't sound as good 🙂
And invariably it's my client who has the breakthrough moment, usually on a Skype call, and I don't have to say ANYTHING.
We're usually working together on their business – for example this week I set up an interview with another marketer for one of my coaching clients, and helped another client to order his first minisite and put an affiliate system in place…
Usually what happens on a green tea breakthrough is that my client starts speaking a little faster and more excitedly – and then actually begins to speak out loud the thoughts that are running through his mind.
They often say something then stop and say 'No that's not right – if I do it THIS way then it'll happen faster because……
And I can almost HEAR the building blocks of a 6 figure business slotting together perfectly as they speak.
It's VERY cool to listen to and it always reminds me of my own breakthroughs.
My point?
I witnessed one of these moments yesterday. It was on a Skype call but wasn't from a coaching client.
It was from a subscriber who had just secured a place on John Thornhill's 2010 Marketing Masterclass (but not how you think)
As soon as he'd enrolled he emailed me and asked for a quick Skype chat because when he enrolled through my link he automatically got my bonus too.
Now my bonus for buying your place on John's Masterclass through my link is an hour's coaching session – personally, one on one – with me AND when your business is ready, I'll send out an email to 10,000 people telling them about your new product, or squeeze page or service.
In short – I'll bump-start your business. I'll get you going online. I'll give you a leg up!
So this chap came onto Skype – a little nervously as most people are – but then after 30 seconds of chatting he realised that I don't bite (that costs extra) and that he really could ask me anything, and we talked very briefly about what he planned to do
This was just an informal 5 minute chat, not the actual bonus mentoring session – he was saving that for later as you're about to hear
Now every member of John's Masterclass comes out with a unique product and this is what my new Skype buddy wanted to ask me about.
He wanted to know exactly how he could use my bonus mentoring session and the subsequent mailing.
So he started to ask me then tailed off into silence…..
Then he had his moment.
He talked ME through exactly how it was all going to work. He could suddenly see the whole thing mapped out in front of him.
And then –BOOM! -it became clear for him that he was getting the whole Masterclass, and an hour's personal mentoring from me FOR FREE…
Because once he had his unique product through John's Masterclass, the mailing he'd get from me – by buying through my link – would probably more than cover the Masterclass fee (not to mention the large number of subscribers he's get) and boost him into profit too.
Seriously – with a good product a 10,000 mailing should see you with some money in the bank!
In short he'd found a quick way to become an internet marketer.
He'd made the transition.
He'd found the different way of thinking.
He no longer thought as a customer – he thought as a marketer.
And because I DEFINITELY think like a marketer I found a way to tell you about my bonus when you enrol on John Thornhill's 2010 Marketing Masterclass through my link below 🙂
(And guess what – I can teach you to think this way too)
There are still a couple of places left, so if you want to work with me on an hour long brainstorming session where we plan out your business (or whatever you want)….
and then I'll do a 10,000 mailing for your new product, grab your place through my link below
http://www.laycockpublishing.com/jtm/bonuses/
I look forward to working with you
Tony
Get my blog posts delivered by Email