When you first poke your sweaty toe into the murky puddle of internet marketing you get a LOT of advice.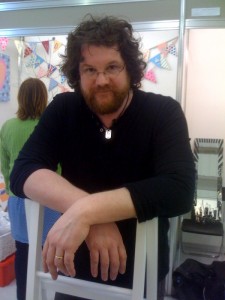 Some of it of offered by genuine experts, and some is offered by by people you wouldn't leave alone with your pet hamster.
The problem is that at the time you have no idea which is which.
I'm speaking from personal experience here. It's only been in the past few years I've come to realise what is what in IM, and as a result I've been able to tell what was valuable advice and what was pure, unadulterated crap.
But to confuse the matter even more, it seems advice isn't either 'right or wrong'
It's 'right or wrong FOR YOU'
So all I want to do today is to tell you about a certain piece of advice that was very WRONG for me, and which I wished I'd spotted earlier…..because I'd have made more money.
Please not I'm not saying the advice was wrong in general, it was just very wrong for me.
Confused?
So was I.
So I was told I needed to 'brand myself' to be succesful in internet marketing.
Various examples were given. The gurus of the time had self-appointed titles such as
'The Adsense King'
'The Traffic Guy'
'The Product Creation Gal'
or something similar.
Now I thought these were horribly cheesy at the time but being a relative newcomer I started to dig around for a title for myself.
'The guy who put the 'cont' in continuity' resulted in some horrible emails after an unfortunate typo so I gave that one up….
…and trying to give some 'Soul' to PLR products didn't work, not did my ex-domain name 'PLRsoul.com'
(you have to say it aloud to get the faux pas and being English helps)
I'm kidding (although sadly not entirely), but the idea of branding is to become number one in your field – the 'go to guy' if you will.
And I'm sure this works. At least for the top guy anyway.
It's probably not so cool being the 'go to when the previous 14 methods didn't work guy'
And it didn't suit me at all. If you read my Affordable Mentoring Newsletter you'll know that I love dipping in and out of markets, experimenting with various methods and techniques and not being branded in one particular field.
I'm not saying this is the right way to do business online, just that I like it and it works for me.
So my advice is that you at least TRY different advice and methods until you find something that suits you.
There's nothing WRONG with being a bit of a butterfly.
Did you marry the first guy or girl you dated?
You've got to try stuff on for size.
Here's an example. On saturday I was actually doing some offline marketing and what a refreshing change it was!
I don't mean trying to sell blogs or SEO services to local businesses, I mean I was helping to set up an exhibition stand for one of the 'real' businesses we're involved with at home.
So I found myself wresting with lighting, display equipment and losing in a wrestling match to a pile of velcro at a national trade fair.
Above is a pic of me at the trade show looking relaxed if slightly bewildered without a laptop to hide behind.
(Quick photography tip – never have your hands too far in front of your body when taking a pic – it makes you look like you pick watermelons for a living)
Anyway – doing something DIFFERENT business wise – it's such a business booster you wouldn't believe.Simply coming from a different angle gives you all sorts of new perspectives on your online stuff.
And it's even better when it works out…
So far 2 months worth of business has been generated, and we expect to at least double (possibly more) before the expo has ended.
And still I can't believe how wide the gap between online and offline business is. The number of offline business people who collect daft information such as whether your title is 'Miss'. 'Mr' or whatever but don't bother to gather email addresses just astounds me.
Likewise, when you mainly sell from a computer you forget the power of face to face meetings when it comes to making sales or building relationships.;
So what's my point?
It's simply this. Branding yourself as an expert is great. It works.
But it's by no means the ONLY way to build a business. Sure, it's a great thing to brand yourself as THE authority in your field, but is it also a way of putting all your eggs into one basket?
I honestly don't know. And it's not something I really spend much time thinking about.
Personally I like to have my finger in many pies. It keeps me interested, spreads my income streams and gives me some VERY valuable insights into methods that can be implemented across various different businesses.
And after a few days messing around in the real world, it was quite a relief to get back to the world of dweebery and nerdism that is internet marketing 🙂
If you're feeling a bit flat and directionless then my advice would be to re-inject yourself with some of the enthusiasm and passion you had when you first got into online business – remember that?
And the best way to do this is to add another string to your bow, another income stream, another project.
I'm sure loads of gurus would disagree with me.
But who cares 🙂
Try it once – see how you feel. Start a shark farm, sell handmade greetings cards that border on being pornographic (beats those bloody horrible twee things you see everywhere) or open a juice bar in your town
It doesn't have to be as grand as the above actually – maybe look into something small and virtually risk-free such as finding good website designers for offline businesses and acting as the go between and taking a cut, or doing that thing – that hobby – that you've always fancied having a go at but never dared…
It'll give your online business a huge boost.
Comments absolutely welcome as usual…Let's hear from you guys. Am I right or wrong? Click on the comments link at the top of the post to have your say
Best wishes
T
Get my blog posts delivered by Email