Last Wednesday in the UK around 2 million people went on strike to protest about what is, in essence, government theft of their pension disguised as having to pay higher monthly contributions and having to work for a significant number of extra years until retirement. I wish them the best of luck.
Our village school was closed therefore and it was a chance to spend some times with the kids.
But my missus and I still needed to work. Christmas is a busy time, not least because of the offline business that is based at home, but also because it's a GREAT time for internet marketing because people are used to spending lots of money at Christmas, so it's a good time to put out offers in my experience.
Most of it was paperwork – planning, ideas and admin and would only take an hour or two of 'power' work.
The kids also needed to do their own 'admin' which involved letters to Father Christmas (still young enough to be doing this!) Christmas cards to classmates, family and friends and even learning lines for the Nativity play up at school next week.
The usual, boring, wonderful family stuff that I love.
So in true Shepherd style we relocated everything from the house to the pub up the road.
It's a 17th Century Manor House (the pub) so we're talking roaring fires, Christmas decorations, real ale and good grub, and apparently a Ghostly Monk who haunts the Gents toilets. Cottaging in the afterlife eh? (If you're not sure DON'T look it up)
We took the usual notepads, stuff for the kids and redirected the phones lines from home to the iPhones which also doubled as our internet connection. Yep – this quaint old English pub has a wireless connection faster than ours at home!
We grabbed a huge table next to the fire and settled in. We got drinks in for all of us, and ordered food, then settled down to wait. The food takes a while to appear but it's worth it and we were making the day up as we went along anyway. No rush.
Here's a pic of my daughter about to tackle her Christmas cards with the same expression I had on my face when about to tackle this blog.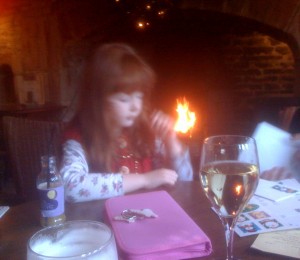 We got about ten percent the work done before the food arrived and the rest of it later, having a lot of fun, chat and taking the pee out of each other. I sampled a couple of their real ales and my my wife tucked into the the wine.
It was feeling very Christmassy.
Once you've got the foundations of your Internet Marketing business built, it actually doesn't take that much to keep it ticking over if you want to take some time off. Even a serious amount of time off.
The important thing is making sure you do the RIGHT things.
In western countries most of us are conditioned from birth to have a 'work ethic'. We feel that if we're not working around 8 hours a day we're not doing 'proper' work.
My own personal belief is that the Calvinistic worth ethic we're stuck with is only about 500 years old and it's purely there to keep people tired and unable to have too many original thoughts or ideas.
It's social control. Keep 'em knackered and they won't question the system too much.
What bright spark came up with 8 hours a day, 5 days a week anyway?
It's arbitrary. Why not 3 days work and four days off?
The technology is in place to free us up. It really is.
Yet the more 'time saving' devices that are invented, the longer the average working week seems to become.
Doesn't make too much sense to me. Yeah I know the industrial revolution changed the way we work, increased output needed a standardized workforce but I have to say, reading between the lines it all seems like BOLLOCKS to me. How come I can receive a bank payment from across the world in three seconds, my phone has more processing power than the first manned space flight but they can't manage to give the world's population Fridays off?
Grrrrrrr!
We're here to make babies, look after the place and have fun. To me that does NOT include some corporate tit inventing 'overtime'.
I could rant about this for a long time but here's the point of this blog post:
Most of us find it VERY hard to shake the work ethic. Me included. I spent a LOT of time feeling guilty that I should be working on my Internet Marketing business 5 or 6 days a week when I first started, even though I just didn't have the time.
Most of us don't if we come from a full-time job and are trying to build an IM business. (Can you imagine how much easier it would be if we all had fridays off?)
Then I realised that wasn't the point of what I wanted to do. For me it's NEVER been about the money. It's about the TIME.
My kids are both under 8.
No matter how much money I acrue in the future, I'm never, ever going to get back this time again. Once it's over it's gone forever, so I make sure I spend as much time as possible with them. Because at some point they're not going to want to hold my hand when we're walking up the street, they're going to want twenty quid and to borrow the car.
Which is fine. It's what happens. It's natural.
But too many marketers bring their 5 days a week, 8 hours a day routine into their IM business. I know it's fun working on your own business and doesn't often seem like work, but ask yourself why you got into IM in the first place?
I get emails from marketers who spend hours every day doing stuff that isn't vital to their business just to 'put in the hours'. Trust me if you're one of these people who put in an 8 hour day every day to 'discipline' yourself, you WILL find something to fill those hours.
It might be forum browsing or Skype chatting. It might be learning a new marketing technique or testing out a new method. But you WILL fill those 8 hours. Trouble is, as Pareto states in his law, probably only 20% of it will be effective. Think what non-work stuff you could be doing with the other 80%?
Personally, I've always preferred to take a 'power hour' or two a day and really hammer through the tasks that need to be done to put money into my business. I also have time I put aside for developing new things.
I didn't get into IM to work 40 hours a week. Sure there are many marketers who earn a lot more money than me. That's fine with me. I'm very happy.
Back to our day off…
After we'd got the 'work' done in the pub we headed up into the village and decided to go for a coffee at a great little coffee house where the kids can paint pottery. It's then fired in the kiln and we pick it up a week or so later.
Here's my son just having finished a piece of chocolate cake the size of his own head, while painting a ceramic Santa.
By the time we'd finished it was dark (as it is in Yorkshire at 4pm at this time of year) so we wandered home. A really simple, but pretty great day.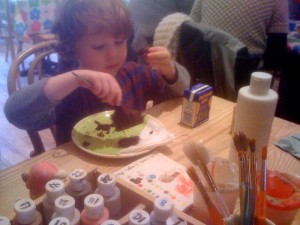 As I managed to wedge my stuffed belly behind my desk later that evening I saw that my 'pub power hour' promo had almost hit the four figure mark. This is possible from a business that was set up part-time, AS LONG as I concentrate the time I dO work on what really matters.
Here's an example.
I'm writing this post on Friday and this afternoon I'm going up to school to take the kids round their school fair. Tombola stalls, visits to Santa (who looks spookily like the school caretaker) face painting and the rest. My wife is running one of the stalls.
So I've got another hour or so clear to work before I need to set off.
I've got a list on my desk of half a dozen items I need to do. Three of those will actively put money into my bank account, another one is to publish this blog post and the other two are instructions to send to my PA.
Now I wasn't born with a personal assistant stapled to the back of my head, it's something I implemented as soon as I recognised the need (far too late actually), but remember I've never worked 8 hour days (for any length of time) on my biz. Sometimes I've had to pull an all-nighter to get something done sure, but I'm talking about my ongoing business model. I work maybe 15-20 hours a week on my biz.
In fact since this is the first ever year that my children have both been in full-time school I haven't wanted to work any more than that while they've been at home.
So my advice to you would be threefold:
1. ONLY do what matters. If something isn't actively putting money into your bank account or isn't more than ONE step away from putting money into your account (for example installing tracking code on a squeeze page won't actually make you any money but the conversion tracking and subsequent tweaking WILL) then ask yourself if you really NEED to do it
2. Don't start work with 8 hours in front of you. Write a small list and then break it down into an hour's work. Once that's done go get a coffee with someone you fancy or play a console game for an hour. It's NOT about wasted time, it's about training yourself to focus on what needs to be done.
'Oh it's alright for you Shepherd, your business is built! You don't have to put as much work in!'
Yeah well my business didn't plop out of my arse already built. And as I've said before, I've NEVER worked on it full-time for any length of time. That's why I built into it the processes that really matter from day one – continuity, list-building and traffic driving. Do you need much else? Get those basics set up and you'll have the freedom to experiment with other stuff without having to worry about your bread and butter income.
3 Finally, you are NOT evil if you work less than 8 hours a day. Nor are you lazy or 'not buckling down to work'. You're an internet marketer and thus you have a different set of rules to an employee.
YOU make the rules. Nobody else, and that includes your spouse, mother-in-law or anyone who spouts dung on the warrior forum.
I'd go so far as to say working 8 hours a day was actually BAD for you, bad for your business and bad for your personal relationship.
I know it's easy for me to say. Why not make it easier for YOU to say too?
CLICK HERE to get a look at the ONLY internet marketing system you'll ever need to learn!
Comments welcome below
Get my blog posts delivered by Email