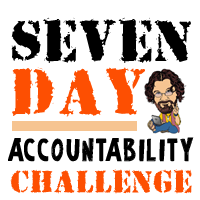 OK guys well I've spent weeks agonising over what software I could use to run my accountability challenge.
I thought about forums, plugins and shedloads of other stuff. Nothing seemed right for what I wanted
Then last night I woke up around 3am and realised 'You need to practise what you preach mate – just get it out there!"
So welcome to my 7 day accountability challenge.
The aim:
The aim is to prove to yourself that setting goals works, and that by publicly announcing your goal on this post, you'll get more accomplished than you have done in a long time by making wishy-washy commitments you never stick to.
I'm seriously guilty of this too y'know 🙂
What to do if you want to get involved:
In the comments section below jot down a goal that you will accomplish in the next seven days. It sould be something like 'I will build my first squeeze page' or 'I will make an adsense site', 'I will produce my first product' or 'I will add 40 people to my list'
In can be absolutely anything.
In seven days I'll post a follow-up to this and the original posters can let us know what they've ACTUALLY accomplished in the past 7 days.
That's it.
If this proves popular we'll maybe set up a forum or regular post or something like that.
I'll start off with my own 7 day goal below.
Other comments are also welcome. We'll pick this up after 13th March and see who's done what
EDIT: Excellent and very brave response. Remember if you want to see real results post your 7 day goals here. Doesn't matter how big or small they are.
After March 13th I'll post a follow up and we'll review how we got on. If we see some serious results we could make this a regular monthly event.  Thanks guys!

Get my blog posts delivered by Email