Here's one of the major reasons I use Safe-Swaps.com to buy my solos.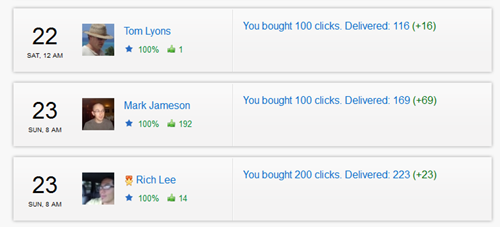 Here are the stats from just ONE day's solos a week or so ago.
It doesn't always happen like this but around 80% of the time it DOES.
Let's dive straight in with this method:
DON'T buy all your clicks from one seller because the over-delivers (the green + numbers in the screenshot) won't be as high. Typically sellers only over-deliver around 10%
If you buy from seperate sellers they'll ALL usually over-deliver and you'll end up with more clicks for your money.
You can see from the screenshot that I ordered 400 clicks.
Cost me $125
The ACTUAL number of clicks I got to my landing page was 508
That's an extra 108 clicks.
Worth $30-$50
I've mentioned this in an email to you recently but I just wanted to show you the actual PROOF when the stats had updated.
So if you're looking for the best possible value when buying your solos, join safe-swaps.com, don't buy more than 100 clicks from each individual seller (you can see the biggest solo in the screenshot with 200 clicks over-delivered the LEAST pro rata)
Getting the best value possible for your clicks means you can get away with a much lower conversion rate and still remain in profit.
Comments / questions welcome
Get my blog posts delivered by Email