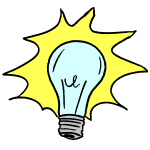 The more I'm around internet marketing the more I realise there's LESS to learn
It all comes down to one thing – if you have traffic you're sorted, if not you're struggling.
Yes there are all the little piddly things that most newbies (me included) get bogged down in such as how to install an aweber form on your sales page, how to BUILD a sales page…and even 'what's a sales page?'
But the truth of the matter is this – if you can get 10,000 targeted uniques to one of your sites a day in ANY way – from email marketing, SEO, CPA, PPC or whatever then your business is going to be very rosy indeed
Everything else is fluff
When you're getting traffic you can sell your own products, affiliate products or even advertising space itself.
The more I get involved with internet marketing the more I discover how SIMPLE the basic idea behind it actually is (it's the doing that is the difficult part)
But I wish I'd had this sort of clarity when I first started instead of wasting my time learning things that don't really matter
Instead I should have concentrated on getting steady traffic to my sites. From there everything else could be built on top.
I'd also not fanny around with SEO like I did. I'd buy traffic from day 1.
Yes this costs money, but you wouldn't buy a high street shop with no money for stock would you?
You need investment money for your IM business.
In fact more than that, you need to be professional from day 1 too, which is harder.
But if I had to choose the ONE thing that would have made a major difference to the speed in which I built my business, it would be this:
Learn to cut away the unimportant stuff and focus on what really matters – and that's getting traffic to your sites.
If nobody sees your offer you're not in business.
Focus on getting the sale for 80% of your time, and that starts with traffic.
Get my blog posts delivered by Email