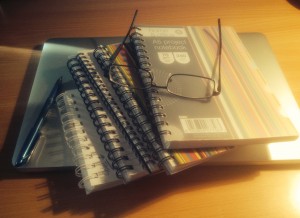 I sort of like this pic.
My £1600 15" MacBook Pro Retina screen computer is nicely folded up so I have somewhere to put the FIVE notebooks I'm currently using to house my projects, ideas and other stuff I'm currently working on.
I do use my Mac of course, a lot.
But sometimes you need to feel and see and be able to just scribble stuff out rather than hit the delete key.
For me it's just as important to see the things I've rejected rather than delete them as though they were never there.
I get my notebooks and pens from poundshops (discount stores but with less helpful staff) and I have piles of them.
Ultimately it'll be a problem when I can't get to my desk for spiral bound notebooks, but until that happens bugger it – I like pen and paper…
…especially the ones that have rings from my Guinness or wine glass on them.
That's when the REAL ideas come to the surface…
Get my blog posts delivered by Email