A couple of days ago I told you about a pretty cool Twitter service called Twittollower that my marketing friends Tahir and Matt had launched.
Well it just gets better because I bugged Tahir to give you a GUARANTEE that it would work for you. Here it is: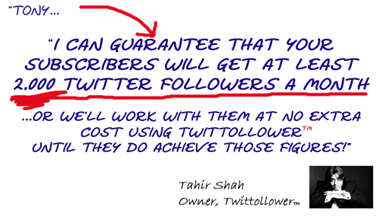 That's SOME deal, I'm sure you'll agree. And from what I'm hearing from people who have already locked in their place yesterday, it's no exaggeration on numbers!
Click HERE Now To Watch The Video And Secure Your Place (Watch The Whole Video!)
If you've got a little more time, here's the full Skype chat that Tahir and I had, and we decided to record, where I grill him about Twittollower and you can actually hear the pain in his voice when I make him offer his guarantee to my subscribers (he he). Please excuse my voice – a bout of man-flu 🙂
Get my blog posts delivered by Email