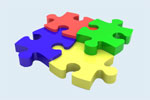 You can grab your FREE personal use license from http://www.eazytheme.com
This is a seriously powerful WordPress theme aimed at Internet Marketers, Bloggers, Flippers and Affiliate Marketers.
After a slightly rocky start due to unreliable coders we're now back with an even more powerful, fully-featured Eazytheme. It looks better, it's got better functionality and it was designed by myself and Tony Newton because we simply couldn't find a theme that fitted all our marketing needs. Until now that is.
Why pay $47 for a license to use a premium theme on just one blog when you can have unlimited personal use for free? The terms and conditions and other small print are available once you've downloaded the free version from http://www.eazytheme.com but you know me by now – there's nothing hidden, no catch or any sort of dodgy continuity involved.
Grab EazyTheme right now and check it out for yourself. Try it out on your sites. Once you see you can make money from using it, come back and buy the developer's license from us (priced so anyone can afford it at $47)
It's been great fun to launch and you can see what I reckon is the actual moment I gave the go ahead to launch in this picture.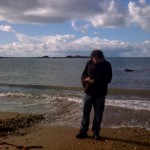 Actually the pic was taken by 'accident' by my wife who was set on gathering evidence that I check my email FAR too much when we're taking a break, and snapped this of me sending an email when I was supposed to be beach walking.
Two miles down this pretty but breezy Welsh beach and  I checked in again to see literally hundreds of people were getting themselves a copy of EazyTheme. I've got one myself of course – I've got a big new site planned and it's based round the features you'll see in the video at http://www.eazytheme.com
I'm a big fan of 'mobile marketing' and we travel quite a lot, running things from a laptop and smartphone.  In fact I'm writing this blog post while I watch my kids playing in the holiday cottage and the horses in the field outside.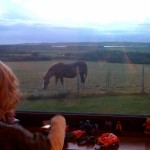 The truth is I'm really proud that we've been able to bring you a piece of kit – a premium, customizable wordpress theme, for FREE – for absolutely nothing when it seems that other marketers charge you at every turn.
I'm no saint, I know that we'll easily make a profit on the time and expense we spent developing this theme, but I also believe in helping people who need it most. And that's usually the guys who don't even have ten or twenty dollars to spend on their marketing business, or are using their budgets for unavoidable expenses such as list software  or getting good web graphics made.
If that's you EazyTheme is for you. The personal user license is both unlimited and free, yet we think it's better than the top paid themes out there.
Best wishes & let me know what you think of it!
Tony Shepherd
PS Once you see the features in EazyTheme, check out our affiliate page and find out how you can make easy commissions by just telling your contacts about how great (and free) EazyTheme is!
Get my blog posts delivered by Email