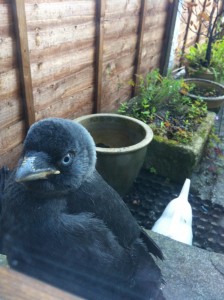 This is the Crow, or a Raven or Rook that's been sitting on our doorstep tapping his beak and flying against the glass for the past four hours now.
I'm no expert but he looks like a young 'un to me, and from watching him move around I'd say he's got a damaged wing.
For the past two days the tree in our neighbour's garden has been occupied by a dozen or more Crows (or whatever they are), and we reckon they're trying to form a rookery or something.
I'm resisting the urge to Google it at the moment just to sound like an expert.
We see the same thing in the graveyard next to the village church. Tall brooding trees full of Crows (is it called a Parliament of Crows?) all making the same creepy, abrasive, wonderful noise.
It's getting noisy round here too at the moment and with this little chap obviously trying to get into the house it's like a scene from 'The Omen' film.
My wife said we should do something.
'We' meaning ME of course. So I did.
I opened a bottle of wine, poured us both a glass and had a think for a bit.
There's nothing I can do for him. If we let him into the house he'll just flap round shitting everywhere and wake up the kids. Or my screaming would.
We got a bat in the house once and that was traumatic enough. I phoned the Bat Conservation Trust (you thought English people weren't really eccentric?)
They said 'they have sonar and will never fly into your face or hair'
My arse they don't! I watched my wife's friend go from a gentle, caring woman who loves all animals to a cursing, leaping monster whacking at her own head with a walking boot trying to dislodge the bat tangled in her hair.
It eventually bit and scratched it's way to freedom and I threw a towel over it and released it gently into the night.
We used the same towel to mop up the blood from the floor. The rabies shot the day after didn't help her love for bats either.
Anyway….back to our Crow.
My decision was to do nothing and 'see what happens'. It's what the RSPCA say to do anyway.
Tomorrow morning he'll either be dead or waking us up crowing with his mates. I hope it's the noisy option.
We've lived in the country long enough not to be romantic about wild animals though. The first time I saw a fox ripping a chicken to pieces just a few yards from my feet stopped any Disney notions I might have about nature.
But I like the way nature sometimes just 'waits to see what happens'
The Crow with the bad wing outside isn't like Tom Hanks in that crappy 'Castaway' movie, planning his escape or trying to make the best of his situation…
No, our crow is just waiting to see what happens.
Unfortunately if a cat or a fox comes in the night I think he's a gonner.
If he's only hurt his wing not damaged it, he might just be OK to fly back to his mates tomorrow.
He's just waiting to see.
And that's often the best thing I can do with my own business.
Wait and see what happens.
We're told quite a lot that it's good to be proacative, and it is. But sometimes (I think) it's also good to get away from your computer for a while and see how your business goes on it's own.
You know the way a car pulls to the right or left when you take your hands off the wheel?
Well if you leave your business alone for a couple of weeks and do nothing to it, you'll get a pretty good idea of what stage you're at.
For example if you continue to make sales on autopilot you're doing something right.
If your list continues to grow then your squeeze pages and traffic generation methods obviously work.
But if nothing happens. No sales and no opt-ins then the chances are that that when you DO work on your business you're focusing on the WRONG things.
Instead of doing whatever day to day tasks you were doing, you might be better off working on implementing systems that run themselves when you take your hands off the wheel.
A really quick example would be recruiting new optins as affiliates. So that they then send you more traffic which in turn generates sales and optins, which you then recruit as affiliates….
And on and on.
Sometimes doing nothing can be good for your business.
It's something I do on a regular basis.
Consider taking your hands off the wheel for a while and watching what happens.
Comments on crows, business or bats welcome 🙂
EDIT: Good News. As of 10.17am this morning our bird flapped it's wings a few times and flew onto the roof. He waited there for a while then flew off into the trees. He seemed fine.
There's a comment crept onto the blog below about my attitude to animals (and birds) that might be considered offensive. I had my finger over the delete button but I very very rarely delete blog comments unless they're spammy. So I left this one in, as a celebration of the fact that people are all very different 🙂
As with all my opinions – they're just that. Mine. I'm probably one of the luckiest internet marketers around in that most people who find their way to comment on this blog are open minded, intelligent and have their own carefully formulated opinions. Thanks guys.
As always I stand by my point of view and opinions.
Get my blog posts delivered by Email