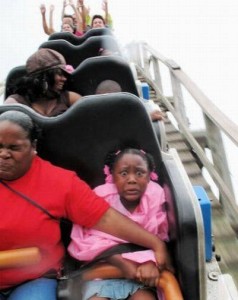 I think we're in for a rollercoaster ride this year.
It looks like the USA and it's mates (including the UK) are going to invade or attack Iran in some way. There are a couple of aircraft carriers and a shedload of warships down there at present.
They're not there to get a tan.
So no matter how optimistic you are, fairy dust isn't going to keep the price of oil down.
On top of that the Euro is fast turning into toilet paper, the British government are taking benefits away from the weakest members of society and the American government seems determined to pass laws that will allow them to lock up ANY citizen that bugs them without a trial.
Top it off with ACTA – the  internet 'anti-piracy' legislation that appears to me to be a back door for a bloody big 'OFF' switch for the entire internet. That's raising it's ugly head again.
And it's just gone February.
So as we wave farewell to various basic human freedoms, freedom of speech and the last vestiges of hope that us in the west will EVER allow other nations to just do their own thing, let's look at why it's VITAL that you get your internet business up and running this year.
1. Because the world is going mad, and you can either put on your tin foil hat, rush out to buy the latest widescreen TV and join them
2. Or you can take a step back and think…'Shit, my time to becoming financially self-sufficient is fast disappearing down the plug hole of destiny'
Whew! Quick splash of the face with cold water and my rant is over.
From the day you're born your whole life is about CONTROL.
When you're a kid (and if you're lucky) this usually comes in the form of loving parents / guardians.
Teachers take over this role when you hit school age and while they see conformity as the biggest virtue a young human can aquire ('Oh she's always punctual, polite and well dressed') rather than a questioning, active mind (why IS there no mention of the British concentration camps in the Boer war in my history book Miss?'), on the whole, school is about care as well as control.
Then comes your job (we'll miss out marriage in case my wife reads this)
I've talked about this before. It's wrong to have to ask permission or lie to go to see your son's first school football game, or your daughter's Nativity play.
It's definitely wrong to have to ask permisison to take a piss because someone will have to replace you on the production line (been there)
And it's DEFINITELY wrong that someone else decides how much you're worth and how much they're going to pay you each month.
I'm NOT a leftie liberal who thinks that being an employer is evil. I'm an employer.
I just think that there are different kinds of people in the world.
AND THE FACT THAT YOU'RE TRYING TO IMPROVE YOUR SITUATION THROUGH INTERNET MARKETING PUTS YOU FIRMLY IN THE 'SPECIAL PERSON' CATEGORY.
Not because of the internet marketing thing, but because you're aware that there's room for improvement in your life and you are willing to take the responsibility for making that change.
It;'s cool.
You should pat yourself on the back.
And more importantly it's about doing what very few people ever do in their lives.
Taking control BACK from the people who have it, and putting it firmly back in your own hands.
Acually, being your own person is pretty easy to do, in theory anyway.
All you need to do is become debt free and work for yourself.
I'm not saying it's easy, but I AM saying that if you know what needs
to be done – having a target – then it becomes SOMEWHAT easier than
wandering round not knowing how to take back your freedom.
Work for yourself.
Become Debt free.
That way, few people have control over you, your family or your life.
Think about your current situation.
If you're in a job, your entire leisure time is controlled by your boss.
Don't think so?
Try taking next week off and spending it learning to paint.
Tell your boss that no you're NOT taking some of your holiday days, and you're not sick, you just won't be in next week, and perhaps the week after that because you've just bought some acrylics, got a nice big canvas and the light in your kitchen is just PERFECT for painting.
Likewise try telling your mortgage lender that you'll be taking a year off from paying them because you thought it'd be fun to spend the money on a small boat. Nothing too fancy but you won't be paying them anything more for 12 months, at which time you'll pick up repayments again.
You have to work because of your debts or outgoings.
If you didn't have debts you could work part-time. Maybe a couple of days a week.
Control.
Just because 99% of the population are in the same situation doesn't mean it's right – it's just means it's the norm.
BIG difference.
It's quite uncomfortable to hear this sort of thing right?
I agree.
Wanna know WHY it makes you uncomfortable?
Because you're one of the tiny minority in society who actively wants to improve their situation, and WORSE – you KNOW it's possible.
Sometimes you wish you'd never heard of this internet marketing lark right?
Because then you'd have the blissful ignorance of most people who simply aren't aware of the HUGE potential for the internet holds for making you FREE.
You know.
You can't close Pandora's box once you've opened it, so you might as well get on with the business of creating a freedom-producing income for yourself online.
Even if you go back to your life before you saw the potential of internet marketing you'll always wander back, checking the Warrior Forum for posts, or subscribing to a new list 'just to see…'
So why not just resolve to get on with the job of earning that extra money that can free you up forever?
Forget everything that's gone before – the frustration, the failures, the information overload and the fear of making mistakes.
And start again, from new, right now.
An internet marketing virgin.
You can't unlearn everything you already know, but you CAN ignore what you don't need.
One simple system.
Focus on one thing until it's done.
If you've been trying to get your online business going for more than a year and it's just not happening, it's time to DUMP what you've been doing, because it ain't working.
Go back to basics. Go back to fundementals. Get away from your computer and sit quietly with a notepad and pen. Switch off distractions. Take control. Take control.
Comments welcome as usual 🙂
======================================================
Here's a system that I teach to people who are overloaded and need to dump the excess baggage.
It's about focusing on just one thing that works, making fast profits, and is highly upscalable.
Get my blog posts delivered by Email