You know that I live the internet lifestyle right?
Running my business from a deserted beach while the kids play happily?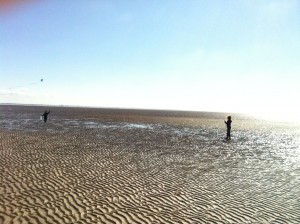 Yeah well sometimes it works well and you feel like Richard Branson.
And sometimes it doesn't and you feel like a PROPER tit.
Guess which one happened to me last week?
Yep – I'm a 36DD cup!
It was the Easter holidays here in the UK and the kids were off school so as usual we decided to wander.
I think I've mentioned before that we have a 'grab bag' that contains all the requirements for 'mobile business' such as various leads, headsets, adapters, pen drives, spare power supplies, notebooks,and other stuff that we need to run the biz.
It just gets chucked in the car whenever we wander off, along with my netbook and our iphones and suddenly everything it totally portable.
We could (and have) run things like this for weeks and even months at a time.
So this particular morning it was raining and windy so we decided to go beach walking for a challenge.
I had a last check of my emails before we left as I drank my morning green tea and all was fine. Peace and calm.
Then for some weird reason I decided to check my 'divert' folder.
I have 'divert' folders for most marketers whose lists I subscribe to. Their emails go directly into this folder and don't hit my inbox becuase I find them distracting.
If someone is launching something on the same day as me, or a similar product, I find that if I'm aware of it, it makes me think a little too much about whether I should change the time of my launch, or put a different angle on the product so they don't clash.
Whereas if I don't know, I don't give a crap. Hence my divert folder.
But this particular morning I was skimming through and I noticed John Thornhill's folder.
I hadn't seen what John was up to for ages, so I clicked on it.
Well by total co-incidence (and this is the absolute truth – not some cruddy IM ploy) he'd just sent out a JV invite for his latest WSO.
And it was due to go live that very day. I knew the product too and it was a good offer
I now had two choices:
I could spend half an hour writing a promo, grabbing an affiliate link, working out the international launch time (EST/EDT and all that) and risk getting verbally (and possibly physically) abused by my lovely wife who was herding the kids into the car…
Or I could follow the internet lifestyle and launch the whole thing from the beach…
I chose to live the IM dream and launch it from the beach using my trusty iPhone 3g.
WHAT a mistake.
That iPhone is now about to be listed on eBay and the latest model sits on my desk in it's place as I type this.
Back to the story….
In the car I emailed John T and asked him what time GMT the launch would go live because I intended to send the details to my PA along with the promo email I was going to write and let her send the promo out via Aweber at the correct time.
John got back to me with the time and I wrote my promo on my phone while eating sushi as we stopped off for an early lunch. I also got my affiliate link sorted out.
All going well and I'm feeling like a real IM dude.
We got to the beach and the sun came out. It was gorgeous and wild and windy and my nose got sandblasted. We walked for miles.
The launch was due to go at 4pm.
Earlier that day at about 1pm I'd emailed my PA with full instructions and asked her to set up the promo and send it at four PM.
At 3.30pm I'd had no reply. This is something that NEVER happens.
I checked my iPhone to see if the message had been sent successfully and found to my horror that my phone had moved itself over to 'nobhead mode' and despite having an almost full battery kept restarting itself every time I tried to load a webpage or access my email.
I just couldn't access my email or the promo I'd written earlier.
I now know that the email I sent to my PA actually WASN'T sent.
By now it was 3.45 and it looked like the promo wasn't going to happen.
This wasn't life and death of course but I'm stubborn and was determined to go ahead with my plan.
I left the rest of my family to wander round and sat on a rock with my wife's iPhone (a 4S model) to see if I could make the deadline.
The first thing I needed was access to my email. I tried to add my email account to my wife's phone but I couldn't remember the password so that bombed.
Luckily I COULD remember the affiliate link I'd set up so I reckoned that if I could log into Aweber I could do the launch myself.
5 minutes to 4pm by this time.
If you can send out a promo on time you'll make more sales. People are on multiple lists so they tend to check out an opportunity from the first link they see. That's what I've found anyway.
So after three failed attempts I logged into Aweber (I remembered the password for that one luckily) and by expanding the screen and working on a section at a time I managed to write a (very short) promo and send it from Aweber complete with affiliate link.
I couldn't get into my email account so had no idea if it had been sent successfully.
Here's a picture of me pacing up and down as I'm sending out the promo. I'm extremely grumpy here and muttering words that you only usually hear from possessed people with Tourette's syndrome.
So what did we learn from this, in terms of being able to successfully market on the move?
1. Make sure that when you get a new phone you BACK UP all the info that was on the old one, including a folder with relevant passwords.
2. If you work as part of a team, as we do make sure that all info is duped across all devices.
3. If possible set up as much as possible from your office first. If I'd uploaded the promo from home I could just have logged in on the beach and cicked one button to send it
I finally got my promo out at around 4.14pm. I didn't know it had gone out until I got back and could plug in my iphone to charge it for long enough to check my emails.It still obviously wasn't working properly though
It wasn't a disaster because at the end of the day it was just a promo I was sending out, and it would probably have been better to just abandon the whole thing.
But in the past on numerous ocassions I've launched my own products from various locations away from home very successfully.
So this was a good lesson I think.
On the whole I'm glad i didn't abandon this promo for two reasons. Firstly I've generated sales into four figures and it's also paid for my new iPhone.
And secondly because it's a great product that I highly recommend.
I only lost about an hour of my day at most, and because of my lifestyle I'll definitely continue with my mobile marketing.
It might be better to put a new system into place though…
Any ideas?
Comments welcome
Get my blog posts delivered by Email