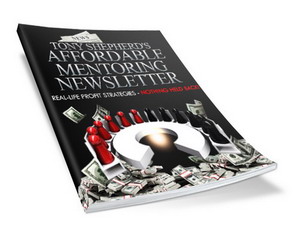 When I decided to produce an internet marketing newsletter I wanted it to do one simple thing – to cover the techniques, experiments and methods that I use to make a good six figure income working just a couple of days a week from home.
But I hadn't reckoned on just how much people chat online.
Suddenly I found myself with the best part of 1,000 subscribers. I now get so many requests each month to cover specific topics that there aren't enough hours in a day to cover them all . Even if I DID want to work 7 days a week, 10 hours a day.
Because I own my 'Affordable Mentoring Newsletter' outright it means I don't have an editorial team to answer to. So I can freely rant, swear and vent spleen about the ups and downs of earning your living online.
But rather than wax lyrical about my newsletter, why don't you grab a sample copy for yourself?
Click the link below and you can see what all the fuss is about.
CLICK HERE TO GET YOUR FREE COPY OF TONY SHEPHERD'S AFFORDABLE MENTORING NEWSLETTER
Get my blog posts delivered by Email