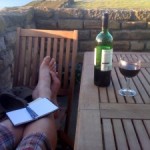 I'm not your typical internet marketer I reckon…
I don't drive a flash car. We have a new one for going places in and an 11-year old one for chucking garden waste and stuff in the back and doing countryside 'workhorse' stuff
I don't live in a big fancy house. We have a comfortable cottage in a nice village with enough garden to grow veggies and easily fit in a trampoline for the kids.
My kids wear second-hand school uniforms sometimes….
They grow so fast that we're constantly swapping school T-shirts, jumpers and stuff with other parents whose kids also grow out of their uniforms in a matter of months
Makes sense
Some people are horrified about letting their kids wear second-hand clothes but I did as a kid and MY sprogs are fine with it – until they get a bit older and clothes start to matter more than spiders, tadpoles and secret diaries
I often take my kids to school.
It's mostly mums who do this and I figured out a few years ago that quite a few of the parents think I'm an umemployed loser (I look scruffy most days)
I don't mind 🙂
I've never missed a school sports day, a Christmas play, a parent's evening, a book day, a 'Dad's day', a prize giving or anything like that.
Not once.
I remember talking to my daughter's teacher at an open evening last year when some other dad I'd never seen before in an expensive suit and clutching a mobile phone came striding up and started talking over me to the teacher…
…I soon cut him off and he apologised but said he had an important meeting at work (this was around 7pm) and he was in a rush
I let him take my place because I felt sorry for him, his fancy suit, his self-importance and his forever beeping phone because he'd got his priorities SO wrong
I'd never seen him with his kids at school in four years – apparantly he travels a lot with his high-status job
Do you think his little girl gave a shit about how important he was at work?
…or how he strode around clutching his phone to his ear making 'important' decisions?
Nah, she just wanted some time with her dad.
Sure work is important but it's not THAT important
And that's the whole point of why I'm writing this.
Time. It's what life is about.
It's what life IS.
When you've had your last minute on Earth there's no point phoning customer services on your fancy friggin mobile and demanding another two years…
because it's not coming
…I realised this a long time ago which is why I worked my arse off before our kids came along to get myself into the position where I'd never need to work for anyone else as long as I lived
If I HADN'T done that then guess what?
(this is important)
I'd be doing it NOW
If I worked a 9-5 job now I'd be spending every spare hour replacing my salary from my online earnings (because that's all you need to get out of your 9-5)…
Because that two or three grand a month you earn working for someone else is your cell door
It's the barrier between you and your precious time
Time to spend with my friends and family
Time to get creative, think, dream and build my business without being too knackered after working 50 hours a week
A job is about swapping your time for money
(and at some point your time will STOP forever)
But a business is about creating a SYSTEM where time ISN'T related to money.
Please read this next bit – it's vital:
A job is where you toil endlessly exchanging your money for time. All you have to offer is your time and until you retire or drop dead that means you have to work endlessly in order to earn a wage
A business is where you build a SYSTEM – a process that drives wealth towards you
The difference is, with a business, the toil is in building the system itself. You just need to do it once
After that you just reap the rewards and tweak it
So do you work endlessly, week after week, year after year exchanging your precious time for money?
Or do you work (bloody hard) for several months or years to build your system?
…for example a list of 100,000 that will bring you a whole weeks wages for just one email…
…or a website with organic traffic that pays you a hands-free $7,000 a month in Adsense fees?
…or by selling your own custom-built software in a chosen niche?
Because once you've built it, 80% of the work is then done
You have time to plan, to build, to enjoy, to love and to LIVE
On your terms and by owning your own time
I wish I could show you what it's like from this side of the marketing fence guys
(remember I'm no smarter than you, no braver, and I live a pretty simple life)
…because it'd change some of you forever.
I know because I had someone show me their lifestyle around 10 years ago
Want a full step-by-step IM course with ongoing email support?
Get my blog posts delivered by Email