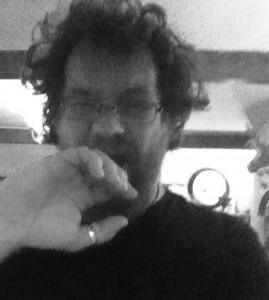 It's a yawn by the way – in the pic – not some kind of medical attack or martial arts move.
It was early this morning when I took this – not quite light – and it's quite normal for me to be up before anyone else.
I love this time of day and I can't ever see myself having a lie-in past 9am ever again!
Not always been that way though
When I was working my 9-5 I had 'THE alarm clock'
You probably had something similar. A sound or tone or beep or whatever that you dreaded.
I dumped my ancient radio alarm clock a couple of years ago but before I did I tested whether it still worked so I knew if it was recycle time or tip time.
I triggered the alarm and those memories of dark, cold mornings getting up to do I job I hated came flooding back.
I wonder if pre-industrial revolution our ancestors found it any easier getting up when it got light and going to bed when it got dark?
My point is that when you work from home with your online business you don't have the same time constraints (unless you choose to set them for yourself)
If you have coaching calls you can work them around your personality – maybe start them at 11am or in the evenings or some other civilised hour.
And it's little things like dumping the horrible grating beep of your alarm clock that's the great thing about having a home based online business NOT the money or the flash car or the business class travel.
It's being able to wear what you want. If you think you can do that most of the time try going into your office job wearing jeans and a T-Shirt that says 'F*ck Capitalism' on it – or wear a suit to your forklift driving job and see how long it takes them to refer you to a doctor.
It's being able to go to school plays in the middle of Tuesday afternoon, or go for lunch or to see a film with your partner on a whim one Monday.
It's feeling like you are your own person again. It's feeling human.
That- for me – is the real gold of an online business…
Get my blog posts delivered by Email