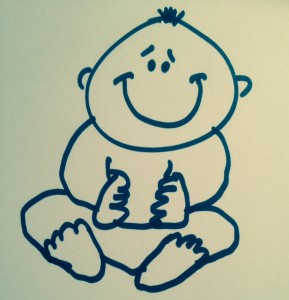 The major driving force for me quitting my 9-5 and going into full-time internet marketing, working from home…
…was the impending birth of my first child 🙂
Now THERE'S a deadline you can't argue with eh?
There's no asking for an extension or 'an extra month because you're not quite ready' when it comes to babies.
Give or take a few days, when they're coming…they're coming.
So in order to be able to quit I knew I had to be earning at least the same amount as my current salary and I had around six months to get to that level.
We only found out my wife was pregnant when she was 8 weeks along, and then it took me even more time to realise that I wanted to be working from home when my daughter was born.
I had a simple strategy to replicate my salary from home.
Work my arse off.
I got up a couple of hours before work every morning and worked until after midnight every night.
My wife was (and still is) hugely supportive so that made things easier but I'll admit I was knackered most of the time.
What I actually DID to quit my job isn't that exciting. I basically wrote some ebooks, and sold some of them online and sold some of them as printed reports via national newspaper adverts.
It was HOW I went full time that is still vivid in my memory all these years later (our daughter is now almost ten)
I just REALLY wanted it.
I didn't just think 'it would be nice' to work from home.
I REALLY, passionately wanted to be able to be there while my kids were growing up.
I wanted it more than I wanted to say in bed when my alarm went off at 5am so I could work for two hours on my online business.
I wanted it more than I wanted to open a bottle of wine and flop in front of the telly after a full day working my 9-5
I wanted it more than anything else.
Now I'm not a willpower superhero.
I'm the laziest, most pleasure-seeking enjoyer of life that you could ever meet.
I enjoy comfort, having plenty of free time and don't like hard work.
But in my daily life I have choices, and still do (as everyone does) and on quite a number of these decisions I still hear myself say 'I want THAT enough to really work for it'
And I put everything else aside and go for it.
And I think that's the difference between success and failure.
It's just a simple balance – a weighing scale.
You either want it enough to get it or you don't.
No moral judgement or right and wrong, no blame, no explanations…just a simple equation.
Get my blog posts delivered by Email