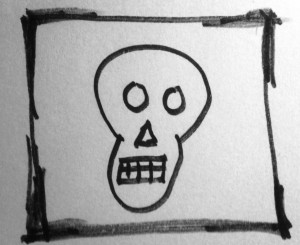 So I was eating crumpets with strong blue cheese on them.
Sort of brunchy-type snack around 10.30am with a cup of green tea,
On my to-do list I had a few things – get in touch with my techy about a disk space issue, read the review copy of a WSO I got sent through to see if it would help my list, share some of my results with my Private Facebook Group and buy some solos ads.
But I wasn't about to do anything until I'd eaten my cheesy crumpets and eased my stomach into the day gently
So I was browsing Youtube, and especially the TED Talks that are on there because some of them are fascinating.
And I came across a woman who called herself a 'death educator' giving one of the talks.
It was an interesting talk ranging from how we've taken death out of the home and into hospitals so we don't really see it any more and therefore we don't talk about it and are removed from what is (or was) a perfectly normal part of life.
I kind of agree with that.
Then she moved on to death bed experiences and being around dying people and how it's healthy to talk frankly to people who know they are dying.
Anyway so I Googled her name and immediately found her site.
She has a lot of content on there – videos, accounts of the dying experience and so on.
She also has a book on the way and various services, consultations and what she called 'experiences' ranging from $300 to $1500 that you can purchase from her site using Paypal.
She even lets buyers know she doesn't offer refunds.
I enjoyed her TED talk, and there's nothing more I can really say about it apart from we'll all find out about this issue personally at some point right?
But what an interesting niche eh?
Get my blog posts delivered by Email