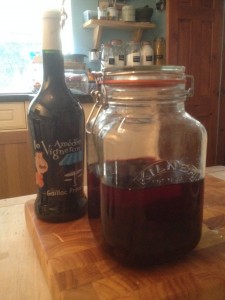 The bottle on the left is red wine brought over by an uncle from where he lives in France (in the hills not too far from Rodez), and it's solid drinkable stuff.
Sort of 'vin de table' that you would plonk onto the table when eating.
In England something similar would cost around £6. He buys it locally to him at the equivaleint in Euros of £1.80
He brought us a case of it and it's almost gone already…
The jar on the right is homemade by us (my missus actually) but it's not wine it's Sloe Gin.
There are one or two sloe bushes that grow locally and their location is kept VERY secret by locals.
Despite that my clever wife managed to get enough berries to make our slow gin back in September and it's gorgeous.
It's thick and sweet and best taken in very small measure but when we had a houseful of visitors last weekend we served up our sloe gin in shot glasses after a returning from a cold walk into the village and it certainly got the conversation flowing.
We saw some mass-produced stuff in a National Trust shop yesterday priced at twenty-five quid for a small bottle. The alcohol content was 23%
We made five times that amount for maybe £15, the alcohol content of ours is a ballsy 40% and the taste is wonderful.
It was designed to make rough gin palatable but if you use decent gin to start with it's even better.
Goes well on a cold night in front of a roaring fire with a boxset of Breaking Bad.
Just waffling…
Get my blog posts delivered by Email