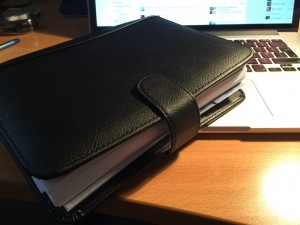 I've dumped all my notepads and gone for a big 90's style 'breakfast is for wimps' type organiser.
I'm loving it.
It's got a one-day per page infill and everything I do (and need to do) goes in there.
It lacks the integration and seamless file swapping of electronic systems such as my Mac and iPad but let's face it, I'm not a very seamless person, and more importantly I don't THINK in a seamless way…
…so a slightly disjoined 'scribble it out and put in on another page' approach suits the way i think.
It also kills flies, makes a great take-off pad for the various remote control helicopters we have around the house and makes me feel like I'm actually working when I put it on the pub table after sneaking out for lunch with my wife. It usually doesn't get opened, but it looks good 🙂
Get my blog posts delivered by Email