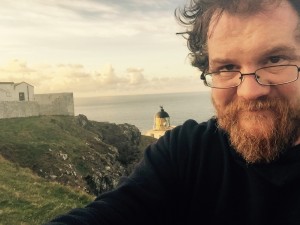 Spot the grizzled old sea dog eh?
We're currently on a working break in Scotland
Staying at a rugged, gorgeous, stark and dramatic headland right next to a working lighthouse (in fact we're in the old light keepers cottage)
You can see it in the pic behind me.
We're miles from anywhere and often we're the only people up here too.
Here's the view using the very fancy panoramic setting on my iPhone
The internet connection is practically non existant so I've only managed the barest of communication by using my daughters iPhone, because she has the tiniest bit of a signal whereas I (with all my fancy technology) have absolutely bugger all
In fact I can only post this at all when we're out and about
We've been for meetings at local galleries (connected with offline stuff we do) and in Edinburgh meeting with a coder, and all in all it's been very productive.
My virtual assistant has been running the business while we're away and I scheduled some broadcasts to go out to my list 'just in case' there wasn't a connection where we are (glad I did too)
So in short, I made more than enough to cover our break, expenses, spending money, staff payment and then some through just 3 emails.
Not me being a marketing genius of course – it's just that I had the foresight to start building a list several years back, and now it's (literally) paying off
But working as we take breaks or travel has become second nature to me now, and it's one of the major reasons I do what I do.
I won't apologise for repeating myself now because it's the most important advice I can possibly give you EVER, if you want to do the same thing.
Start building a list – because that's the basis for any solid and profitable internet marketing business.
It'll change your life
Get my blog posts delivered by Email